Woman Within Staff Training
Staff Training Requirement
The Woman Within Staff Training is required for women wishing to staff for the first time. This Training offers the opportunity to learn all you ever wanted to know and needed to know about staffing the Woman Within Weekend. Learn what goes on behind the scenes on the Weekend. Learn about the processes, how to do them, how to be present and in containment with the participants and most importantly how to tap into your own wise woman to be present for the women on the Weekend.
This Training is open to all Woman Within Weekend graduates who are interested in learning more about staffing the Woman Within Weekend. If you are not ready yet commit to staffing a weekend, please attend this important training, then you can apply to staff anywhere in the Woman Within International network. Training is offered before each scheduled Weekend.
How much will it cost and what else do I need to know?
$55 is the workshop fee
It's a five and a half hour workshop
You'll get an email with directions and more information is sent when the training approaches.
Bring a beverage and a snack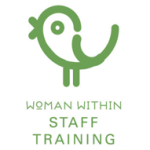 Staff Training Registration and Payment Form