Envision the life you want at work, at home, in your relationships. Learn concrete tools that can help you get there, intentionally, one step at a time
Turn your intentions into actions. Learn how to envision the life you want. Then get concrete tools to help you get there intentionally, step by step. Non-residential. Typically 1.5 days over a weekend. No prerequisites.
What will I get from it?
Set clear goals for the you want
Recognize the parts of your life that aren't in alignment with your goals and intentions
Gain the insight to get our of your own way
Work through concrete steps to achieve sustainable change
Who can attend?
There is no prerequisites for this workshop. Open to any woman over 18 years of age.
How much will it cost?
$250 covers your program tuition. This is a non-residential training. In most cases local woman can help with lodging however be sure to mention your needs when the workshop is announced.
Who will lead it?
Dale Herink, who created this workshop, will facilitate. Dale is a Certified Career and Life Coach, trained in the Hakomi Method of Psychotherapy, she also serves as a Weekend Leader for Woman Within Weekends around the world.
When & Where?
Currently we do not have an Authenticity Workshop scheduled so please fill out our Wish List so we can keep you and others posted on this and other upcoming programs.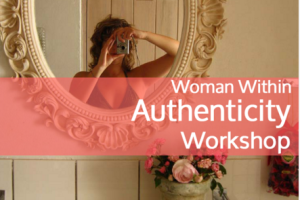 Thank you for letting us know of your interest. While this does not obligate you to attend, it does help us plan to add workshops not only in our region but through out the USA.