News from Woman Within Western USA
NEW: ONLINE CIRCLE TRAINING WORKSHOPS!
Woman Within Western USA is pleased to announce a new program offering – an
Online Circle Training
!
Learn to create a safe place where women can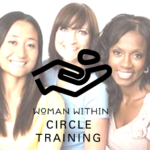 connect
share their experiences, and
own their feelings
without
dumping their feelings onto others,
getting lost in their story,
giving advice or
rescuing others from their emotions.
You'll learn active listening skills and how to stay in connection during times of group or individual conflict.
Dates and Time:
Cost: $195.00 includes your program fee, and printing and shipping of training materials
Location: Zoom (video conference)
What You'll Need:
A computer or a tablet
A private space
Headphones or earbuds and microphone
Please feel free to reach out with any questions or concerns to Kris at circletraining@womanwithinwesternusa.org

We posted our first communication on the novel coronavirus, encouraging online connections, on March 25. While Spring celebrations may look very different this year, the essence of this time of year remains the same: renewal and joy. In light of what's happening in our world today, the season of optimism and hope could not have come at a better time.
We are inspired by how everyone in Woman Within — across the country and around the world — has responded to the coronavirus pandemic. Our vision is truly tested in trying moments like these. Yet in the face of an unprecedented global challenge, women continue to support women.Read more.

In response to COVID-19 and recommendations from other Woman Within leaders worldwide, we are cancelling upcoming events through April 30, 2020.  During this time, we encourage Open Circles and Committed Circles to hold circles online. To help with this transition, Woman Within International is providing access to Zoom accounts for Open and Committed Circle hosts: contact Judy Rudin at engagement@womanwithin.org.

LEADERSHIP OPPORTUNITIES
Ready to step into your greatness? We're looking for you!
Click on links below for details.
Email Ania to apply . . . 
Communications Director:

responsible for communicating the organization's mission, vision, and activities. She publishes the newsletter using MailChimp and supervises the activities the Website Coordinator and Social Media Coordinator 

Southern California Supplies Coordinator: responsible for ensuring adequate supplies at the Southern California Woman Within Weekends.

Our news includes plans for Weekends in 2021, reports from our Anniversary Celebration, staffing opportunities, Circle Training, Skills Workshop, and more. We are introducing three new members of our leadership team: Desiree, Nicole, and Kris. Ready to let your light shine, too? We also have an impressive number of women hosting Open Circles in our region, too.

Join us in celebrating 20 years as a Woman Within Region January 11 & 12 from 10 am Saturday to 3 pm Sunday in Aptos, California, secluded among coastal redwoods just inland from the shores of Monterey Bay, south of Santa Cruz. Space is limited.

Happy Holidays. Will we see you at our Anniversary Celebration Jan 11 & 12? It's coming soon and there still are tickets  Bring friends – all women over 18 years are welcome. Please read on for activities and opportunities in our region. May your holidays bring you memories you'll always treasure. Woman Within Western USA.

We're sharing news of our 2019 Rose Award nominees and have an invitation to let your light shine at our Anniversary Celebration. Read on for more opportunities to get involved. Ann DiLoreto, Communications Director.

Dear women: yours truly, your Communication Director is stepping aside to focus on family and health and allow an opportunity for another. The last three years have been delightful, but it's time to focus on family and health. Contact nominations to toss your hat into the ring. Keep reading to learn about this opportunity to serve on the Board, new members of our team, and our Anniversary Celebration. Wishing you happiness well-being,

  Ann DiLoreto, Communications Director
Greetings!  This is turning out to be a season of growth, transitions, and excitement! We welcomed 31 new Weekend graduates to our community in June, new team members to the Board, and are looking for others to join us. On a personal note, I received a promotion with my career and relocated to the panhandle of Texas, where I will continue to serve as Western USA President. Read on for the announcement of our region's nominations for the International Rose Award.  and more news about our region.  We look forward to enjoying the joyous summer season with you.

Marie Bice, President, Woman Within Western USA
View Past Newsletters and Articles